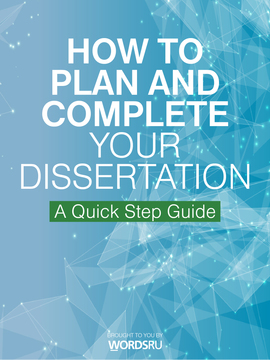 Regardless if you're just getting started with your dissertation's research, or if you're in the midst of compiling all your information, you now have access to a free Quick Step Guide from WordsRU that presents checklists, processes, and encouragement for planning and completing your dissertation.
Below is a brief snapshot of a partial page in the Quick Step Guide that consists of eighteen pages of helpful information.
Creating a Checklist for Completing Your Dissertation

By creating a simple checklist, you will break the huge process of creating a dissertation into small, achievable chunks.

The checklist will help you visually appreciate where you are in the grand scheme of your timeline, and give you a feeling of accomplishment and satisfaction each time you complete a task.

Although checklists are empowering for keeping your workflow tasks on schedule, checklists can also get out of hand if all you do is make lists but don't follow through with the tasks. Thus, when you create an initial checklist try to abide by these suggestions: Keep it simple. Keep it achievable. Keep it visual.

First, create a simple list of tasks.

TIP: It is often beneficial to consult your rubric and your university's submission guidelines / dissertation packet to determine the tasks you will need to perform. These will both help you to identify the specific items needed and remember additional tasks needed to support those items.

Then, improve your list by adding deliverable dates and an area to place a check mark when each task has been completed.

TIP:

Provide extra spaces between each task, so you can add additional tasks as they present themselves.
To pick up the free Quick Start Guide, click here.
What You'll Learn
Once you download this free guide, you will understand why everyone is talking about this handy resource that takes you from frustrated to happy. Written in easy-to-understand English, the guide contains action steps, checklists, tips, how-to information, and encouragement for planning and completing your dissertation.
Here's just a small sample of what you'll find inside this eighteen-page guide:
How to Understand and Implement Your School's Dissertation Rules
Compiling Your Research and Avoiding Plagiarism
Six Easy Steps for Picking Your Research Question
Three Easy Steps for Selecting Your Research Design and Methodology
Checklists for Maximizing Your Time
And much, much more!
Before You Submit Your Dissertation
The secret to academic success is to hire a professional editor before submitting your dissertation to your committee or advisor. Although you might believe that your English is perfect, your grammar is flawless, and your writing points flow naturally from one section to another, remember that a writer cannot be objective about his or her writing.
In fact, a professional editor is likely to find errors that you've never realized were wrong. After all, it is the editor's job to be 100% aware and knowledgeable about every aspect of English grammar, not to mention your style guide.
Furthermore, academic editors read, review, edit, and submit feedback and recommendations to students on a daily basis. They are trained to see things that even your advisor would miss.
Why Papers are Cited for Rejection
Try asking your advisor for the top reasons why papers are cited for rejection. For the most part, papers are rejected due to grammatical errors, run-on sentences, and stylistic errors (in addition to plagiarism and the apparent inability to follow directions).
Unless you are already an expert writer, where else but from a professional editor would you get the knowledge you need to ensure a publishable final draft? Do you have time to learn perfect grammar and memorize hundreds of pages from the style guide? Even the professional journals that you read to gather and process ideas have editorial staff.
If you think you don't have the money or don't want to spend the money, consider what it will cost you if you don't hire an editor. At the least, when you hire a professional editor, it will save you weeks of rewrites. At worst, if you don't hire an academic editor, your dissertation might be rejected entirely—now that's real money and time down the drain.
The professional academic editors at WordsRU have helped thousands of students over the years, and they're available 24/7 to help you polish and refine your dissertation before you submit it. Click here to get started today.
Here's that link again to download the free Quick Step Guide for Planning and Completing Your Dissertation
After you download this free Quick Step Guide, leave your comments below. What you say here can help another student. Thank you for sharing!