Before you can make plans for your editing projects in 2015, it's important to quickly review what happened in your life in 2014. I know you might not want to review all these details now, but since history is known to repeat itself, if you have areas in your life that you want to change in 2015, it's important to take a quick look back.
2014: A quick review of your writing and editing projects
By writing your answers to the following statements and questions, you will quickly get an idea of who you were in 2014 and what you might need to work on or erase from your 2015 agenda.
Name three of the biggest lessons you learned in 2014 after having your documents edited.
1.
2.
3.
Name two writing accomplishments that you're really proud of from the year 2014.
1.
2.
In the area of your personal life or your business life, name three tasks that were extremely easy for you to complete during 2014 that involved either the writing or edit process.
1.
2.
3.
What three things or areas of your writing life were the most frustrating during 2014?
1.
2.
3.
Thinking of all the writing activities you were involved in during 2014, name your top five revenue-producing areas that you'd like to stay involved with during 2015.
1.
2.
3.
4.
5.
Thinking of the last question, which two activities do you NOT want to be involved with during 2015?
1.
2.
If you had to cut down on your writing or editing expenses for 2015, which 2014 expenses could you easily eliminate? (Personal or professional)
Taking Inventory of Where You Are Right Now
By looking at what you're doing right now at the end of 2014, provide answers to the following questions.
During a normal twenty-four hour day, how much time do you spend on your writing and editing, and how much time do you spend doing other things?
(These things would include time driving for appointments, reading and answering email, cooking, cleaning, shopping, watching TV, texting, surfing, reading, or talking on the phone, etc. Briefly list all those things where you knowingly spend time.)
Jot down any activities that you could spend less time on or eliminate as you contemplate a more successful, fulfilling, and relaxing year in 2015.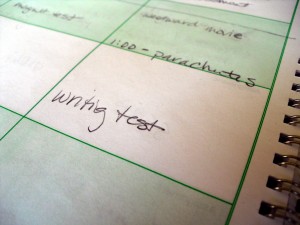 Planning for 2015 – The Fun Part
Could you plan to spend less time on a few minor activities to allow room for a new business or hobby that will increase your income?
Name them.
Which five things would you like more of during 2015?
1.
2.
3.
4.
5.
What is your word for 2015? Write it down in your calendar and make a note of all those times when you see that word (on a sign, in email, on a billboard, in a book, etc.).
(Think: prosperity, obedient, loving, kind, generous, and giving)
What are your income goals from your writing for 2015? Are they the same as 2014?
 Goal Planning

Do you need to make changes to your income goals to make prosperity more prominent in your life so you can share your profits and time with others?
Are goals important to you? Why or why not?
Are you planning to go on vacation in 2015? Create a milestone calendar and jot down possible dates.
On a 2015 calendar, get the important goals and target dates notated on your calendar. Then plan ahead. What steps will you take to meet your milestone for goal #1, goal #2, vacation days, etc.?
Summary for a Prosperous 2015
By making plans now, you'll reap the rewards later. I've found that when I put something down in writing and then list events, tasks, and goals on my calendar, those items get done more often than if I just talked about what I wanted to do in the new year.
Feel free to list some of those things you're planning on for 2015.
If you could say one thing to your editor, what would it be? Describe it in a sentence.
Candace, Contributing Editor