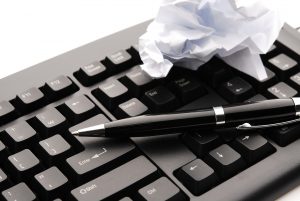 During everyday business routines, the typical business owner or a staff member of a company will have to communicate in written form, which makes it important for you to learn the essential business writing tips to attract more customers.
If you think about it, every day in your business life, you will have to create emails, business letters, possibly presentations, memos, proposals, maybe even training materials. Then there's those promotional materials, brochures, monthly or quarterly reports, grant proposals and much more. There's no way you can get around the fact that you need to write in such a way that will not only convey your message, but will attract more customers.
If you are an employee, you might even be able to get a promotion based on your enhanced writing skills. If you are a business owner, regardless if you write your business content yourself or outsource it to a freelance writer, it's important that you understand the basics of excellent business writing. Below, you will find five business writing tips to attract more customers.
Five Effective Business Writing Tips to Attract More Customers
Maintain a professional approach to everything you write. While it is fun and creative to show your sense of humor and your wit, those elements do not belong in a professionally written business document. Therefore, avoid jokes, personal comments, gossip, or off-color phrases.
Do not write or print anything that could be used against you in a court of law. The written word is evidence in any court room. Make sure your honesty, integrity, and factual information is beyond reproach. If you believe that what you have written will only be read by your immediate intended audience, you could be surprised sometime in the future about how you are being held accountable for the words you have written.
Keep your writing focused and brief. Business documents are not meant to be long historical documents. Readers have only a short period of time to comprehend the content you've written. Provide that to them in a brief and succinct manner.
Don't use big words or business jargon when simple words tell the story. When you're trying to convey something that is on your mind, don't try to describe it in three paragraphs when one sentence will suffice. If you have to describe something in a technical manner, explain it in plain and simple language. The number one rule in business communications is to have your writing be understood by the reader.
Pay special attention to people's names, titles, and genders. Nothing is more frustrating for a client than to receive a letter addressed to Mrs. Terry Smith, when in fact the recipient is a male. Check and verify your resources, even if you have to make a quick telephone call to verify the spelling of a name and the person's gender.
As you write effective business documents, keep these tips in mind. They will definitely help you attract more customers to your business. Or, if you are a staff member of a company, your writing expertise will get noticed in a good way. If you still need more help writing effective business documents, you might want to contact one of the competent editors at WordsRU who can help you wordsmith your business documents. Also, you might find this business writing book most helpful.
Next month, we will feature Part 2 of business writing tips that attract more customers. Be sure to bookmark this site to read the conclusion.