Students who have completed their dissertation can advise you that your working relationship with your research advisor as well as other members of your dissertation committee can dramatically impact your momentum and performance.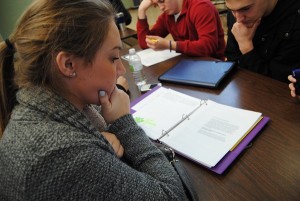 An advisor guides your work, encourages your study throughout the dissertation committee meetings, and ultimately, provides encouragement for you to keep going and not give up.
But sometimes with all your best intentions, you might be feeling a certain amount of tension between yourself and your dissertation research advisor. The question then becomes: How do I improve this relationship and get the support I need to make sure I graduate?
Your first step is to look at what is working well and then focus on the types of issues that need improvement. Does your tension seem to exist as a result of any of the issues shown below?
My advisor is not available when I need to talk. If your advisor isn't available, it might make you feel anxious and frustrated. Try communicating with him or her through email. If that doesn't work, or if the replies don't happen as quick as you'd like, then write it down as a "talking point" to discuss during your next in-person meeting.
My advisor is micromanaging my study. If you feel your advisor provides too much help by insisting that you follow a more rigid academic and quality driven framework, then you probably feel like you don't "own" your study. The next time you meet, ask how he or she thinks you could work more on your own while still achieving the goals already set for you. You can always ask your advisor to outline the goals he or she believes you are having trouble with, and then agree on how to move forward.
My advisor is unhappy with my performance. You won't know if this is true or not until you ask. Just having a sense that your advisor isn't happy with your performance, should not impact your study. However, if you feel that your advisor's attitude or words are expressing disappointment with your performance, then now is the time to get that matter cleared up. Otherwise, your relationship will feel strained and you might lose your patience and procrastinate about your next meeting with your advisor. You don't need more stress at this stage of your education, so sit down with your advisor and try to come to an amicable agreement about how he or she feels you can improve your performance.
My advisor is not in agreement with my approach to research. Although you both might have different goals for your research, find out why or what he wants you to emphasize. By prioritizing your research goals, step by step, it could possibly eliminate you being at odds with your advisor.
As you already know, it takes time to complete your dissertation, but it also takes persistence, organization, and a visible effort on your part to make it all happen. When you get in front of your advisor, one way you can begin is by asking him or her for a candid appraisal of your progress and the work you've done thus far. It's important not to be defensive when the feedback is delivered. You're asking for an understanding about his way of thinking. You should want to know how your advisor assesses your collaboration so you can help the relationship to improve. To get the most out of this one-on-one discovery talk will depend largely on what you learn from the discussion and the steps you take to honor his viewpoint.
Remember, one day, this process will all be behind you, and you will be able to move on with your life. In the meantime, try to remain as positive as possible and don't let your frustrations fester into anger.
At WordsRU, we have experienced professional academic editors standing by twenty-four hours a day to help you with the editing process of your dissertation. Get a quote today while you still have time.