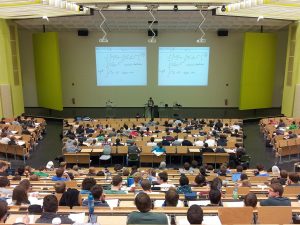 When you enter college, it doesn't matter what you did in high school, because college is a transition like nothing else you have ever experienced. Regardless if you are going to a hometown school and still living with your family, or if you are attending college in another state or even another country, the bonus is that you're starting with a clean slate. All the decisions you make and all of the actions you take during this first year of your college term, will definitely play a major role in the rest of your college experiences.
Will You Be One In Four Who Will Leave College in the First Year?
One in every four college students leaves before completing their sophomore year. This is a fact reported by the American College Testing (ACT) website. They state that nearly half of all freshmen will either drop out before obtaining a degree or completing their college education somewhere else. Don't be one of those for students.
Help is Available
To help you survive and thrive in your first year of college, we have created a series of tips to help you. In this blog post, Part 1, you will find five tips. Our strategy is to list the most critical elements that you will encounter on campus during your first week's attendance and how to survive and thrive on your way to success.
Top five tips to help college students survive and thrive in their first year of college
Attend all of the orientations. These initial sessions are intended to help you learn your way around campus faster and to bypass all the red tape that others will encounter when issues arise.
Become familiar with your residence hall and learn the life and study habits of your roommate. It's crucial that you get to know your roommate as well as the first-year students that you will interact with as a freshman. You might change residences or room with another student later in the year, but getting off on the right foot is key to becoming a successful survivor.
Set up an organizational structure for yourself. You're not in high school anymore. Teachers will not hand out homework assignments and give you due dates. Now that you're in college, your professors will post your assignments for the month and sometimes for the entire year. You must be prepared. To conquer this task, you'll need to be organized. Use an app, get a wall calendar, put up a white board, or buy an organizer. Do whatever it takes so that you have some type of structure in your college life to help you meet and accomplish your goals.
Carve out a niche location for yourself where you can study. It might be possible for you to study in your dorm room or in your apartment that you might have rented, but if the area you have defined as your study area is filled with distractions, noise, and temptations, then look for another place that is more appropriate.
Attend all your scheduled classes. While this might appear to be a simple statement, if you get in the habit of staying up late, sleeping in, and missing your first class of the day, you're setting yourself up for failure. It's important to learn the material that is presented in each one of your classes, and it is also important that your professors are aware that you are attending their classes. When you attend your class, you will know what to expect for upcoming tests, changes in deadlines, as well as reading and studying materials.
Now that you've been accepted into college, it's time to enjoy all the hard work you've put in to create a foundation for your successful college career and a job after graduation. Stay focused and make a determined effort to get through your freshman year. Be sure to rely on your network of new friends and professors and enjoy the year ahead of you.
Next month, we will present Part 2 – More tips for surviving during your first year of college. Be sure to bookmark our site and check back next month.